Welcome to St. Michael's parish church in Vienna's first district. Thank you for visiting our website.
The parish priest is Father Erhard Rauch SDS. He is member of the Salvatorian order and is active in his position in St. Michael since 2016. Contact Father Erhard via the parish office or send an email to: erhard.rauch@salvatorianer.at
The parish office is led by Constanze Gröger.
Address:
Michaelerplatz 5, 1010 Wien (church)
Habsburgergasse 12, 1010 Wien (parish office)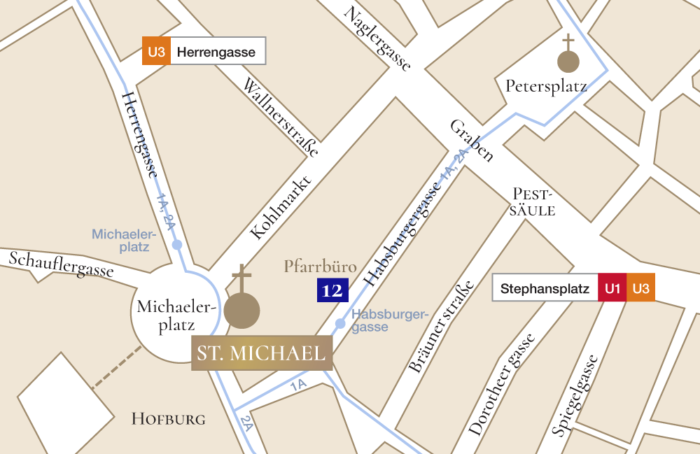 Vienna, first district
Opening hours of the parish office:
Monday, Tuesday from 9 am to 12 am
Thursday, Friday from 9 am to 12 am
The parish office will be open again during regular office hours from Monday, May 4. We ask for your understanding that party traffic should be reduced to a minimum until further notice and therefore ask you to contact us by phone or email.
Contact:
email: pfarre@michaelerkirche.at
phone: +43 1 5338000
An English broshure of St. Michael and of St. Michael's Crypt is available in the parish office.